The MIT Sloan Sports Analytics Conference (SSAC) is an annual gathering at the Hynes Convention Center in Boston of sports writers, broadcasters, scouts, players, coaches, executives, students, nerds and very few women. The premise surrounds the " increasing role of analytics in the global sports industry." From Miami to Boston, here's my perspective of the two-day event.
Warning: This might be the longest piece I've ever written, so please don't attempt to read through on one poop. If you're not from South Florida, you may want to skip to "Friday."
Photo via @cvas
Thursday
8:30 AM –  I want to give a little shout-out to Miami-Dade Public Transportation — the annual sacko (last place) among the nation's public transportation systems. After taking the Metrorail to MIA International early Friday morning expecting the worst while praying for one level above disaster, I find myself walking into the airport punching myself in the head to confirm I wasn't dreaming. Efficient (15 minutes tops from Downtown Miami) and cheap ($2.25), this is a groundbreaking moment for the city of Miami. Being an avid believer in the balance of life, I'm fearing my trip home on Saturday night. There was one SAF10 (Smelly Ass F— on a 1-10 scale) sitting across from me on the rail, however, but that was both inevitable and expected. Greed is for fools.
2:00 PM — Coming off a three-hour flight filled with a few episodes of House of Cards — quickly becoming my favorite show — I stepped outside into the 11-degree Boston air and it hit me. There is no chance in hell that LeBron James is taking his talents outside of South Florida. I have no "sources," zero personal insight into Decision 2.0, and know none of Lebron's people, but it's just not happening. You never go from I'm-thinking-about-pissing-myself-for-warmth to Miami's 70-degree winters and then back to I'm-thinking-about-pissing-myself-for-warmth unless it's for an absolute no-brainer dream job like when Jorge Sedano left WQAM (and Page Q) for ESPN last August.
Hey Jorge, how's that first winter bud? "Annoying," he quips back.
Again, LeBron is going nowhere because winter, Pat Riley, and championships.
Already confused, despite attending this conference two years ago in Boston, I inhaled my pride for the sake of efficiency in asking three different people how to find the Boston Subway's Blue Line. Born and raised in Miami, and then attending Penn State in rural Pennsylvania, my definition of a Subway is a turkey and salami sandwich with honey mustard and barbecue chips inside the bread. If you've never put chips inside your sandwich, Godspeed.
2:30 PM — After getting off the Blue Line at Government Center and waiting for the Green that would lead me into Boston's Back Bay area (fortunately the location of both the conference and my hotel), my ears were being ruthlessly violated by the sound of the Green Line's trolley system. Every time one came through, it was like being in a soundproof room with the cast of the Real Housewives of Miami and their extended families. If not for a man named Sam Starxx rapping nearby while collecting money in a hat, I would have surfaced for a Taxi and my soul.
After sitting in a seat by one of the doors on the Green Line, a very little man with the face of Andre the Giant stood directly to my center. 4'6″ tops, his face was six inches from mine as he wheezed uncontrollably — letting out little yet potent hissing coughs similar to the sound of a two-liter soda bottle being opened. It's the type of "cough" that releases the Ebola virus. Help.
It was probably already too late, but I stood up, held my breath and gunned it off the Trolley of Death a stop early. Horrid decision. Surfacing a good ten minutes from the hotel, it wasn't snowing. No, this was the hurling of snowballs from the sky. Chunks of the white stuff were pounding my hat-less skull. Numb-faced and defeated, I moseyed into the lobby.
Friday — Day 1
9:00 AM — After checking in at registration, I receive a gift bag with a mug, a water bottle, a drink ticket, and some other stuff including a small book that sums up the entire conference in a nutshell. It's a compilation of Grantland columns focused on advanced analytics in sports. Among the authors is Bill Simmons, who famously dubbed the conference "Dorkapalooza" in 2009.
The title of this compilation? "Talk Nerdy to Me."
9:30 AM – I immediately recognize a forgotten theme from my first time here two years ago: there aren't many women roaming these halls. Because of this estimated 100-to-1 male-to-female ratio, the one percent that is here resembles a Miss America pageant.
"This is the Prison Effect," a writer from Ireland tells me. Yes indeed.
The surrounding male eyeballs are holding a little bit longer than normal, shattering what's considered a socially acceptable length of time for instinctual observation. Meanwhile, the wireless network I'm on is called "Hynes Fast Wireless." We must have two very different interpretations of the word "fast."
The two days at Sloan are like one mammoth buffet of information. My mistake the first time was to try to hit everything. I sat in on each panel or research paper presentation for 20 minutes before moving on to the next to maximize my exposure to everything the conference had to offer. I was being efficient, in theory, which is what this numbers revolution is all about. My brain thought otherwise. By the end of that trip, I was so overwhelmed, I had forgotten how to brush my teeth.
This year, the goal is much simpler. First, I would focus on the panels because 90 percent of the information presented in the research paper presentations would soar above my head anyway. The panels offer intriguing round-table discussions from players, coaches, executives, broadcasters, writers, stat geeks, owners, and commissioners. Second, I would pick only a handful of topics a day. In between those panels, I would digest everything I just heard. There are over 60 different panels, discussions, and research papers combined over the two days, often with five going on simultaneously in different rooms.
If you push the limits of the all-you-can-eat buffet, what results is your arms cuddling a toilet. Below is a sample of an action-packed two hours of the SSAC:
The magic of this conference — like with LeBron — lies within its versatility. If you're a slave-to-the-numbers guy, there's more than enough research paper presentations. If you're more into the discussions and panels like I am, there's plenty of that, too.
Sloan molds into whatever you need it to be — like LeBron and Batman.
10:20 AM – I was teased by a research paper presentation called "Automatically Recognizing On-Ball Screens," but ultimately decided on the panel I'm currently sitting in called "Starting a Sports Business."
Again, I've decided to cling to panel discussions more than research papers for comprehension purposes. You typically need an IQ of 145 to enjoy the latter, though there is often brilliance emitting from those rooms.
Featuring Under Armour CEO Kevin Plank, Kynetic CEO and Sixers Co-Owner Michael Rubin, Benchmark General Partner Bill Gurley (Investments in GrubHub, OpenTable, Uber,  and Zillow among MANY others), and Wasserman Media Chairman/CEO Casey Wasserman, there's enough money and power on this stage to rattle the earth. Plank and Rubin combined are worth an estimated $4 billion, via Forbes.
Most of the talk surrounds the incorporation of analytics into sports business, but Plank mentions how the "culture" and "team atmosphere" of Under Armour's relationship with its clients — like Tom Brady — is a focus, how Brady needed to buy into "the mission," and how the quarterback's interests even stretch to the company's reach across continents, like Asia.
The quote of the morning just boomed from Wasserman talking about how fellow panelist Val Ackerman, current commissioner of the Big East Conference and first President of the WNBA, was integral for paving the way for girls in America to dream about playing professional basketball, like his 8-year old daughter wanting to play in the WNBA.
"My daughter is Jewish and from Beverly HIlls," he says. "Two strikes,"
12:55 PM — Before heading to the next panel, I see TNT Analyst and former Bulls sniper (among other teams) Steve Kerr swarmed by at least 15 young men who all look like chess grandmasters. Sloan, where Kerr and his 45-percent career 3-point shooting become Michael Jordan.
He also joins the "Way Taller Than I Thought" Club. Being a relatively little man in a tall man's sport, Kerr is a sneaky 6'3″.
1:00 PM — "Inside the War Room: Building Alignment From Front Office to Field" is our next panel, featuring Joe Philbin and Jeff Ireland… Just joshing. It's actually Mike Smith and Thomas Dimitroff, the Head Coach and General Manager, respectively, of the Atlanta Falcons. Every five minutes or so I'm glancing around the room looking for Dolphins executives. Dawn Aponte, the Dolphins' Vice President of Executive Operations, is actually scheduled to be on a football analytics panel tomorrow. After spearheading Jeff Ireland's ass out of South Florida, she MUST be in here somewhere, right?
Dimitroff has a lavish head of hair and looks a heck of a lot like Brent Barry. He speaks with confidence and clarity, while providing a crutch for his head coach when talking about "analytics." Smith is taking the term a little too literally, like he had no idea this was going to be a sports analytics convention. He keeps using the word "analyzing" in repetitive fashion when answering questions, as if using that word makes him appear up-to-date when talking sports analytics. The true analytical masses — 97.6 percent of those in attendance (I'm among the 2.4 percent) — can't be pleased.
Thomas Dimitroff became the Falcons General Manager in 2008 after spending four seasons as the Director of College Scouting with the Patriots. Sporting News has awarded him Executive of the Year twice — in 2008 and 2010. There is some interesting discussion sprouting about the Falcons decision to draft quarterback Matt Ryan at No. 3 overall in 2008, despite him throwing 19 interceptions as a senior at Boston College.
Dimitroff admits to "biomechanically assessing" Ryan's game, he says it came down to the human element in the end. They studied all 654 of Ryan's throws in his final season and determined they'd only want "a handful" back — most of his picks were not quarterback errors.
How is there not a mainstream secondary interception statistic accounting for non-quarterback errors? This should be as common as touchdowns. We can call them "Backsies." Or just have a category called "True Interceptions," which only accounts for interceptions on the fault of the passer. Even if an official has to reach out to an assistant coach after the game to decipher fault if it's not obvious, it's a fairly simple metric and something even the casual fan can comprehend without much explanation.
2:05 PM — Cookie time.
Every day at Sloan, three types of cookies are available — peanut butter, oatmeal, and chocolate chip. These aren't normal cookies, but genetically altered cookies cloaked under the food porn category. From the girth to the flavor, it's cookie nirvana. After throwing the peanut butter monstrosity down, I came to the realization that these flavorful bursts of joy will be accompanying me on the plane ride home. Operation Hoard Sloan's Cookies has commenced.
3:40 PM — Our next panel is "Basketball Analytics" but it might as well be called "The Stan Van Gundy Show of Awesomeness." Grantland's Zach Lowe is moderating a group comprised of Stan, TNT's Steve Kerr, former NBA GM Bryan Colangelo (though his badge says "Ex-GM"), Celtics Head Coach Brad Stevens and Celtics Assistant GM Mike Zarren.
Van Gundy has some issues with advanced metrics and he's not afraid to share them.
"There's too many generalizations." Using numbers in place of watching film, is a "BIG MISTAKE!" he warns the crowd of geeks. It's like telling a mass of devout Christians there is no Jesus. If advanced analytics were a person, Van Gandy would've put a hit on him a long time ago.
"THERE'S NO SUBSTITUTE FOR WATCHING FILM OVER AND OVER AND OVER AGAIN!"
Its time to release some quotes from Stan the Man in rapid-fire.
"A lot of these minute restrictions are bullshit"
I hear laptops furiously ruffling. Stan's on a mission. It's time to hide the kids, hide the wife.
"Derrick Rose might be too explosive for his own good"
Ric Bucher runs into the bathroom screaming.
"I'd just get rid of the draft altogether, make them all free agents… I won't get any support for that."
ANARCHY!
"What Philadelphia is doing right now… is embarrassing. Adam Silver can say there's no tanking going on but if you're putting that roster on the floor, you're doing everything you can possibly do to lose."
Will someone get this guy his OWN radio show, television show, and network?? Stan needs a hulking, unfiltered microphone.
"I don't think there's anything better if you want to know about players than watching them. I think a lot of people have substituted the numbers for sitting and watching them… Not EVERYTHING has to be numbers."
Half the crowd is now weeping on the floor in the fetal position. This next gem about Moneyball was one of my favorites:
"Earl Weaver knew about that shit way before everyone started charging for it"
Missiles have been deployed! Stan Van Gundy will not be signing autographs.
After the panel ends, as I'm giggling while finishing up my notes, a guy in a dark blue suit somersaults over a speaker wire in front me while heading for the exit. True story. The wrath of Stan Van Gundy, ladies (all seven of them) and gentleman!
Stan sounds like a man fighting back against the machines, like advanced metrics are the reason he hasn't gotten back into coaching. It's like your grandfather not conforming to texting: "I will pick up the phone and talk to a human being the old fashioned way, damn it."
Yet Stan has some valid points. He's spot-on when he says advance statistics shouldn't be more than tools. We need our eyes to make the final call.
"THERE'S NO SUBSTITUTE FOR WATCHING FILM OVER AND OVER AND OVER AGAIN!" will be echoing in my head for the rest of the NBA season.
For instance, let's say Player A's advanced on-court/off-court numbers reveal his team is significantly worse on defense when he's on the court. But after watching the tape, Stan realizes Player A, a center, is getting in good position, rotating correctly, but he's doing two things hampering the team's defensive efficiency. First, he's not even trying to take charges and instead contests everything at the rim (without going straight up with his arms, nonetheless) leading to a high foul-rate and more points allowed. Second, he's not playing the pick-and-roll properly, rotating back to his man a half-second too slow. Are neither of these detriments potentially fixable by coaching?
From the team side, advanced analytics in basketball are pivotal in detecting trends — both positive and negative. But then we must send in detectives (our eyes) to truly decipher where the problem sources and if it's fixable. With metrics alone, a player could be benched or released despite the issue being a correctable one.
Advanced analytics must become harmonious with film study and coaching instincts to be reach maximum efficacy. Basketball is a different animal than baseball. It's not as black and white as with stats like WAR (Wins Above Replacement) or OBP (On-Base Percentage) As with the abysmal-but-strangely-entertaining movie "Stealth," featuring Jessica Biel in a bikini, having unmanned fighter jets built with artificial intelligence is nice in theory, but the human element is a necessity in the end.
There's better analogies out there, but I opted for an excuse to squeeze Biel in here in a bikini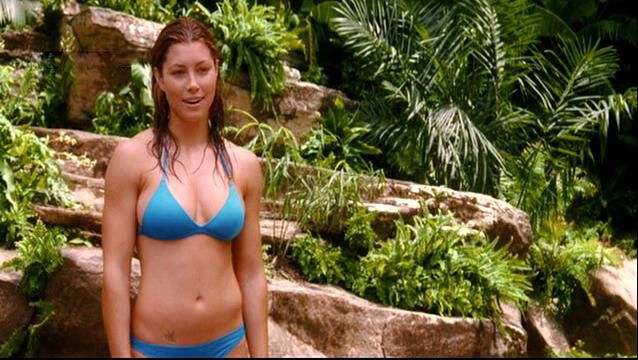 4:20 — Cookie No. 2  (Oatmeal) has been acquired. Though actual oatmeal has been on my sh-tlist for years, I'm having second thoughts because of how this cookie makes me feel. The power of a Sloan Cookie cannot be understated. I'd do things.
5:00 PM — "Building a Dynasty" with Phil Jackson and Jonathan Kraft is up next.
This was one of the panels I underlined in pen from the beginning, and Phil Jackson does not disappoint. When asked about which player today would best fit into his Triangle Offense, he offers up Stephen Curry. Minutes later, Chris Broussard tweets his sources indicate Jackson seeks to return next season and will likely coach the Warriors. (That may have been made up.)
I'm becoming intrigued as Jackson starts talking personnel from his days with the Lakers.
"John Salley was more of a media personality than a player, even in those days," Jackson says of the Spider. "He was a great translator to Shaq."
The quote fascinates on two levels. So Salley was a very mediocre seven-footer who could talk and wisely used basketball to branch into other professions like acting. Eddie. Bad Boys. The Spider has 25 credits to his name on IMDB! It's safe to say washed-up Nate Wilson (Salley) in Eddie was better than actual John Salley ever was, right?
Then there's Shaq, born in this country, in need of a translator for the NBA's most illustrious coach of all time? That might be Jackson's true greatness, knowing how to get through to every different type of player, even if it means signing John Salley just to be Shaq's translator.
Patriots President Jonathan Kraft is lobbed some questions about the drafting of Tom Brady. Kraft will always have that in his trophy case — the guy who was part of the front office responsible for the drafting of one of the NFL's most legendary quarterbacks in the sixth round.
Being that they had Drew Bledsoe in his prime at the time, was it something they saw or a whim?
"Bill [Belichick] had an inkling," Kraft says. "And I think it came down to the intangibles."
Let's be real. If they thought Tom Brady was going to be this good, or even in the same hemisphere of a talent, they would've taken him higher than 199th overall. Nonetheless, that pick will never get topped as far as value picks are concerned — in any sport. Ever.
The conversation shifts towards the trading of draft picks for a head coach. Is it worth shelling out a first-rounder for a guy who never sets foot between the hash marks?
"An exceptional coach at the end of the day is more valuable to a team than any individual player," Kraft says.
Here's where I definitely disagree. Coaching is important, yes. But give me the franchise quarterback or the elite pass rusher 100 over a 100. Is Belichick who he is today without Brady? Don't we need a WAR metric for coaches at this point? This discussion bleeds into the current state of the Dolphins. Should they consider trading a first-round pick for the disgruntled Jim Harbaugh?
I bet there's a good chance you're at least thinking about it.
Saturday — Day 2
10:20 AM — It's time for the "Football Analytics" panel, headlined by Scott Pioli, an Assistant GM with the Falcons, and Paraag Marathe, President of the 49ers.
For those 26 Dolphins fans still out there, Dawn Aponte was scheduled to speak on this panel, but is a no-show. This was expected. Miami's VP of Executive Operations and team capologist has some things on her plate. The period for which a player can be applied the franchise tag ends Monday. She essentially has two days to work out a contract with Brent Grimes, arguably the best defensive player on the team, or they're going to slap the one-year tender on him for an estimated $11.3 million. Then there's the Ted Wells Report, which essentially butchered the Dolphins locker room on national television. She could also have been a last-second scratch in fear of obliterating the female-to-male ratio. So many possibilities are in play.
This panel has a good flow and it's no coincidence ESPN's Suzy Kolber is moderating. On top of her being one of my favorite sports broadcasters because she's great at her job, her voice is incredibly sexy soothing. And she handled drunk Joe Namath with such class.
"You can't be so numbers driven, that you miss the Frank Gores," says Pioli. Excellent point. Gore ran a 4.65 in the 40-yard dash back in 2005. This wasn't the only reason he lasted to 65th overall — he had his some significant knee injuries as a Hurricane — but it certainly didn't help. Gore is just a great football player. His instincts, vision and blocking are things we only see on tape. Through nine great season in San Francisco, he's just 33 yards shy of the 10,000-yard mark.
However, fellow Niner Colin Kaepernick is a specimen — he's unlike any quarterback in NFL history. Amid negotiations for a contract extension (his rookie deal ends after next season), Marathe says both sides will be using analytics at the negotiating table, but that "it's confirmation bias to the max." He jokes (we think) he's going to utilize them for negotiating purposes.
There's also a high school football coach on the panel named Kevin Kelly, head coach of Pulaski Academy in Little Rock, Arkansas. Besides winning three state championships and holding a 125-23-1 record during his 11 years as coach, he's recognized for his unique strategy of never punting the football. Via a 2011 article on ESPN, he punted just ONCE during the entire 2011 season because statistics told him not to:
"When coaches go for it on fourth-and-short, announcers call that a huge gamble," Kelley says. "It is not a gamble, it is playing the percentages. The gamble is punting! But coaches are afraid of criticism, so they order punts." — Kelley
Kelley says it's going to take an "intelligent enough, courageous enough" coach to adapt his philosophy at football's highest levels. Now that makes for fun discussion. Who really cares about abolishing extra points? Screw punting! I'm betting Gus Malzahn is the first, whether it's in college or the NFL.
11:30 AM — After the football panel, I head towards a boxed lunch (also excellent, by the way) and get stopped by a friendly man in a suit named Brad in front of a sponsorship exhibit called Zebra Technologies.(These are scattered all over the conference halls.)
There's a screen with a bunch of names and corresponding numbers, which turn out to be vertical leaps by various patrons at the conference. 33 inches is atop the list. In an effort to challenge (or confirm) my white-boy, Jewish athleticism, I decide to take the leap. I'm told I'll have to sign a waiver removing them from liability for any physical injury or mental distress I could potentially incur from the half-second experiment. I'm also told they would not cover any sewing costs If I were to rip my slacks.
Holding a band in my right hand, I reach my arm in the air so they can calibrate the chip. I squat down and launch myself towards the 100-foot roof with fury. 21 inches, the screen reads. White and Jewish. Confirmed.
For perspective, NFL Combine freak Jadeveon Clowney — an alien with nearly 100 pounds on me — jumped 38 inches, almost doubling my score.
12:10 PM — I run into Tom Haberstroh, who covers the NBA — primarily the Heat — for ESPN. He is one of few NBA writers who is exceptional at putting advanced metrics through the simplify machine so we can mostly understand what's going on. Writers like him are the reason my interest in sports analytics swells. Tom is a translator.
"That's the hard part, it's telling a story," he says. "Some of these guys in stats just want to write research papers and not grab people. My job is to grab people."
With this analytical revolution, there is an overflowing amount of information, which Haberstroh refers to as "daunting." Often times, that information in its raw form is impossible to understand even for the highly educated. It's why I skipped out on most of the research papers this year. Tom provides the necessary filter.
"You don't wanna know how a chicken mcnugget is made," he says. "You just want to eat it, right?"
Actually, I prefer Wendy's because their chicken is real. In Miami, Haberstroh is another well-respected NBA writer. At Sloan? He's a celebrity. His popularity appears to actually be challenging his ability to attend panels and research paper presentations.
"He's the most talented guy at ESPN," a guy named Chad interrupts, shattering the chemistry of our interview. Pretty soon, there will be a metric to confirm his claim. It turns out that was ESPN the Magazine Editor-in-Chief Chad Millman. Oiy.
1:07 PM — NBA Commissioner Adam Silver is featured alone on this panel. He looks like Peter Russo (House of Cards) with an eating disorder or maybe it's just because they're both pasty, skinny, bald guys. There's so many people in the ballroom, I'm guided to an overflow room where Silver's big, bald head is projected on a screen next door. The moderator is Malcolm Gladwell and his hall-of-fame hair.
Gladwell is firing anti-James Dolan (Knicks owner) questions at Silver without fear.
Gladwell: "If [college players] are being subsidized, they are not being subsidized as much as the Dolans." Dolan criticism No. 10 #SSAC14

— Adam Lowenstein (@StatsAdam) March 1, 2014
Here are some highlights of this panel in a tweet-by-tweet manner because I'm fatigued and my nipples are irritated from the cold. I'm also anxiously awaiting Cookie Time. I begin to wonder if they're laced in nicotine.
Malcolm Gladwell on Adam Silver, "You make NBA owners sound like struggling mom and pop shops with street corner franchises" #SSAC14

— Jason Belzer (@JasonBelzer) March 1, 2014
Gladwell again tries to pin down Silver on paying college athletes. Silver pulls a Clinton: "It depends how you define paying." #ssac

— Howard Beck (@HowardBeck) March 1, 2014
"It's been said that keeping Seattle open was the stick to keep other teams in line" @Gladwell "That was Stern!" @NBA Commish Silver #SSAC14

— Sam Nazareth (@NazarethSports) March 1, 2014
Some quick hitters:
Sloan's Top 3: (1) Cookies (2) Stan Van Gundy (3) Malcolm Gladwell
Sloan's Bottom 3: (1) Weather (2) Gender Ratio (3) Weather
Dream Panel: Malcolm Gladwell, Stan Van Gundy, David Stern, and Adam Silver. A two-on-two bloodbath for five straight hours. The topic won't matter.
1:39 PM — And someone just walked in devouring one of those genetically mutated chocolate chip cookies. I'm out!